All rental reservations require a credit card authorization at least one week in advance (for security purposes, do not include card information in the following form. We will contact you after reviewing your request and proceed accordingly). Your card will be authorized for the rental amount, you may pay by cash, company check or credit card upon equipment pick up.
Weekend and Weekly Rates:
Weekend Rates – $ 1.5X daily rate
Weekly Rates – $2.5X daily rate
SHURE PSM1000 Dual-Channel Premium Personal Monitor Systems – transmitters & bodypacks
The PSM1000 Personal Monitor System from Shure brings personal monitoring to its most advanced level yet. The full-rack, dual-channel, networkable transmitter is ideally suited for the demands of professional touring and installation applications, and the diversity bodypack receiver delivers pristine RF signal and audio quality.
Packaged as pictured, consists of: 2 dual channel P10T transmitters with 5 P10R bodypacks (including 1 spare), 1 PA421A antenna combiner, 1 PA805SWB paddle antenna and 2 UA820 1/4 wave antennas – other multiple unit packages available.
Daily Rate = Single units at $100/channel (2 channel minimum) with 2 P10R, 2 stick antennas and 2 IE4 earbuds
OR 4-pack rack (as above) at $400 for 4 channels, also includes 2 PA805 directional antennas
Weekend Rate = Single units at $150/channel (2 channel minimum) with 2 P10R, 2 stick antennas and 2 IE4 earbuds
OR 4-pack rack (as above) at $600 for 4 channels, also includes 2 PA805 directional antennas
Weekly Rate = Single units at $250/channel (2 channel minimum) with 2 P10R, 2 stick antennas and 2 IE4 earbuds
OR 4-pack rack (as above) at $1000 for 4 channels, also includes 2 PA805 directional antennas
6 or more channels at 1 or more weeks = -20% discount
SENNHEISER IEM300 G3 in-ear monitor systems
Packaged 4-channel rack, as pictured, consists of:
4 SENNHEISER IEM300 G3 transmitters with 5 G3 body packs, 1 AC2 antenna combiner and A2003 paddle antenna, IE4 earbuds + Furman PL8 light module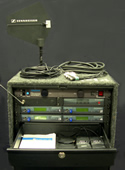 Daily Rental Rate = Single units at $50/channel – with stick antenna & IE4 earbuds (no combiner or light module)
OR 4-pack rack (as above) at $200 for 4 channels
Weekend Rate = Single units at $75/channel – with stick antenna & IE4 earbuds (no combiner or light module)
OR 4-pack rack (as above) at $300 for 4 channels
Weekly Rate = Single units at $150/channel – with stick antenna & IE4 earbuds (no combiner or light module)
OR 4-pack rack (as above) at $600 for 4 channels
6 or more channels at 1 or more weeks = -20% discount
SHURE AXIENT WIRELESS SYSTEM
Your choice of A24D 2-channel or AD4Q 4-channel receivers with bodypacks or AD2 handheld transmitters or combo systems
Daily Rental Rate = $60/channel
Weekend Rate = $90/channel
Weekly Rate = $150/channel
Handheld microphones included w/AD2 units: choose from SM58, Beta58A, Beta87A, KSM8 or KSM9 handheld capsules
Extra AD1 or AD2 transmitters per channel
Daily Rental Rate = $30/channel
Weekend Rate = $45/channel
Weekly Rate = $75/channel
Headset microphones: choose from SHURE Beta53, Beta54, WL93, TH53, COUNTRYMAN E6, H7
Daily Rental Rate = $20/mic
Weekend Rate = $30/mic
Weekly Rate = $50/mic
Lavalier microphones: choose from SENNHEISER MKE2, SHURE WL184, WL93, MX150, COUNTRYMAN Isomax2
Daily Rental Rate = $15/mic
Weekend Rate = $22.50/mic
Weekly Rate = $37.50/mic
SHURE AXIENT AXT600 Spectrum Manager for wide-band UHF spectrum scanning, spectrum analysis, and compatible frequency coordination
Daily Rental Rate = $120
Weekend Rate = $180
Weekly Rate = $300
SHURE UHF-R wireless mic system
Your choice of handheld capsules or lavalier* or headset* mics w/2 half wave antennas
Daily Rental Rate = $50/channel
Weekend Rate = $75/channel
Weekly Rate = $150/channel
*Belt-pacs with lavalier mic = add $10/channel/day or $15/channel/weekend or $25/channel week
*Belt-pacs with headset mic = add $15/channel/day or $22.50/channel/weekend or $37.50/channel/week
6-or more wireless channels come with Antenna Distribution System & cables
6-or more channels at 1 or more weeks = -20% discount